Whether you have moved into a new house or you want to refresh the décor of your current home, painting is a great way to accomplish this. Redecorating allows you to create your style, creating cosy and welcoming spaces for you and your family.
Before you start decorating your home, you may have some questions about the best way to do it or the best paint to use. Here at Celina Digby, our expert is here to answer your questions. Read through the frequently asked paint questions to find the answers you are looking for, or get in touch with your other questions today.
Before you start to paint
How much paint do I need?
Getting the right amount of paint is critical when it comes to decorating your home. To calculate how much you need, you should measure the height and width of the surfaces you want to paint. Multiply these numbers together to calculate the square metre measurement for the room, then multiply that by the number of coats required. Once you have this number, divide it by the square litre per metre as listed on the paint of your choice. You will then know how much paint you need to repaint your room.
What are the different types of paint?
Choosing the paint for your decorating will depend on the type of finish you want. Matt emulsion is most commonly used in homes, especially on walls and ceilings. It creates a great base in any room. Rooms with higher traffic, such as hallways and kitchens, might be better suited to a soft sheen or silk finish, as these are often easier to clean. Gloss paint is useful for both interior and exterior walls and offers a mirror effect when applied correctly. There are many other types of paints, and the right one for you will depend on the finish you want. Our luxury paint range comes in three different finishes of matt emulsion, kitchen/bathroom emulsion (soft sheen) and interior wood/metal eggshell to suit your needs.
What do I need to consider when redecorating?
Before you begin decorating, you'll need to think about the room itself. Is there a theme you are hoping to create? How will you be using the room? These questions can help you decide not only the colours to go for but also the right placement of furniture to complement your theme. Lighter colours will make smaller rooms appear bigger, while bold colours draw the eye to specific features.
What does a feature wall mean?
A feature wall is a wall in a room to add interest and often draws the eye. Dark or bold colours are popular choices for feature walls, with lighter features on the wall to draw the eye. Another idea is to use wallpaper to catch the attention of anyone in the room. This works especially well if you choose a neutral colour from the wallpaper for the rest of the walls, as it will match beautifully.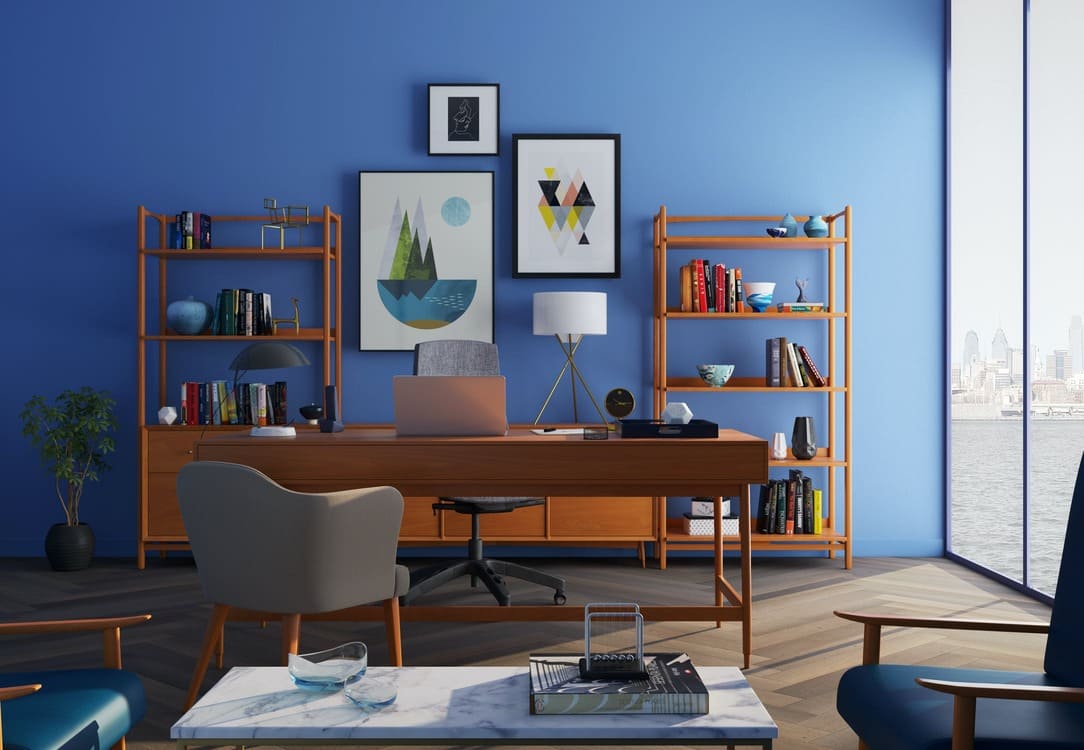 Image source: Pexels
Paint application advice
What order should I paint in?
As tempting as it can be to paint the walls first, you should start with the ceilings instead. Next, paint the wall. Once the ceilings and walls have been painted, you should apply coats to the windows and doors before finishing with the skirting. This will give you the best coverage and allow you to fix any mistakes as you go.
What colours make rooms look bigger?
Lighter colours are excellent for making a small room appear larger. They reflect light around the room, creating an open and airy illusion. Bright, vibrant colours are another popular choice, as are neutral tones. Colours such as magnolia, grey, and even pastels are great for enlarging rooms.
What's the right way to paint a skirting board?
The correct way to paint a skirting board is to sand it first before treating it with a wood primer or varnish if it is bare. If it has already been painted, you can instead simply clean the skirting board to remove any dirt or dust. It is best to try and paint the skirting boards in one session, so start at one side of the room and move steadily across to get an even coat.
How long does paint take to dry?
How long your paint will take to dry depends on the type of paint and the finish. Our water-based paint comes in a variety of finishes, with matt finishes taking between 30 minutes and an hour and soft sheen or eggshell finishes taking up to an hour for the first coat. The second coat will be double the drying time to ensure it has completely dried.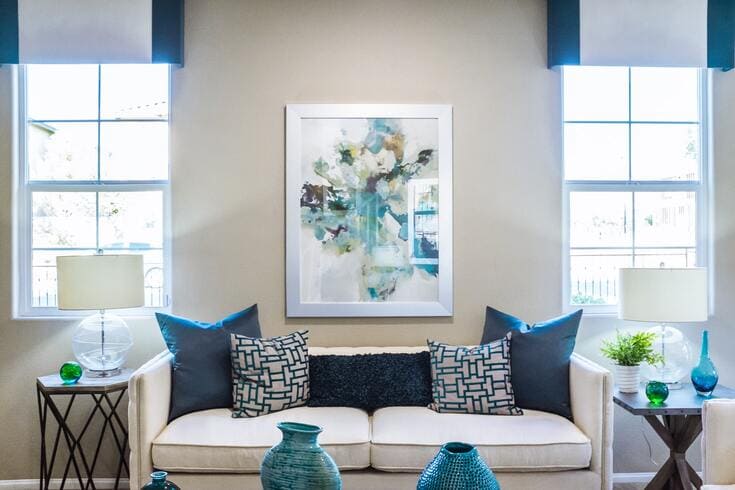 Image source: Unsplash
General painting and decorating questions
What is green interior design?
Green interior design, sometimes referred to as eco-friendly interior design, is where a room is created with eco-friendly materials and products. Our exclusive range of paint is eco-conscious while still being tough and durable. It can withstand high traffic areas and is easy to clean, delivering a luxurious finish without hurting the environment.
How can I get paint out of the carpet and clothing?
Spilling paint when decorating can leave a nasty stain on carpets and clothing. If the paint on the carpet is still wet, blotting the spot with a wet paper towel can help. Don't scrub as this can push the paint further into the carpet. If dry, you'll need to soften the paint with hot water and some dish soap. As for clothes, you should scrape off any excess paint before using a combination of cool water and liquid dish soap on the spot. Blot the spot until the paint is removed before washing the clothes.
Are paint fumes harmful?
Depending on the type of paint, it can be harmful to breathe in the fumes. This is why experts recommend painting in well-ventilated areas, opening windows and doors to allow fresh air through. The Celina Digby paint range is not only environmentally-friendly, but it has an ultra-low VOC content and is solvent-free with low odour, helping to keep you safe.
Can paint go off?
Although paint comes in sealed containers, it can go bad after a time. Latex and water-based paints will typically last up to 10 years with effective storage, while oil-based paints can keep for up to 15 years. It is best to use paint within the first few years of buying it to prevent it from spoiling. You'll know that your paint has gone off if it has a sharp or mouldy smell when you open it up.
Image source: Unsplash
Transform your home with eco-friendly luxury paint
Redecorating gives you the chance to transform your home to suit your style. A touch of paint can instantly refresh a room, giving it a whole new look and making your house feel more like a home. We know how important it is to find high-quality paint to suit your needs.
Our range of premium quality eco-friendly paints are perfect for your home, and they are both child and pet-friendly! This exclusive range has been designed to complement our non-woven luxury wallpapers, so you can create a feature wall with ease. We are extremely proud of our range!
Have a hard time choosing between colours? Why not buy some samples? All of our samples come in A5 size and have been individually hand-painted with two coats to give the perfect colour accuracy.
Recent Posts
Meditation and yoga are some of the most popular health and fitness practices in the UK. With the …

Redecorating your home can be an intimidating task, even before you get started. Choosing the rig …

Whether you have moved into a new house or you want to refresh the décor of your current home, pa …